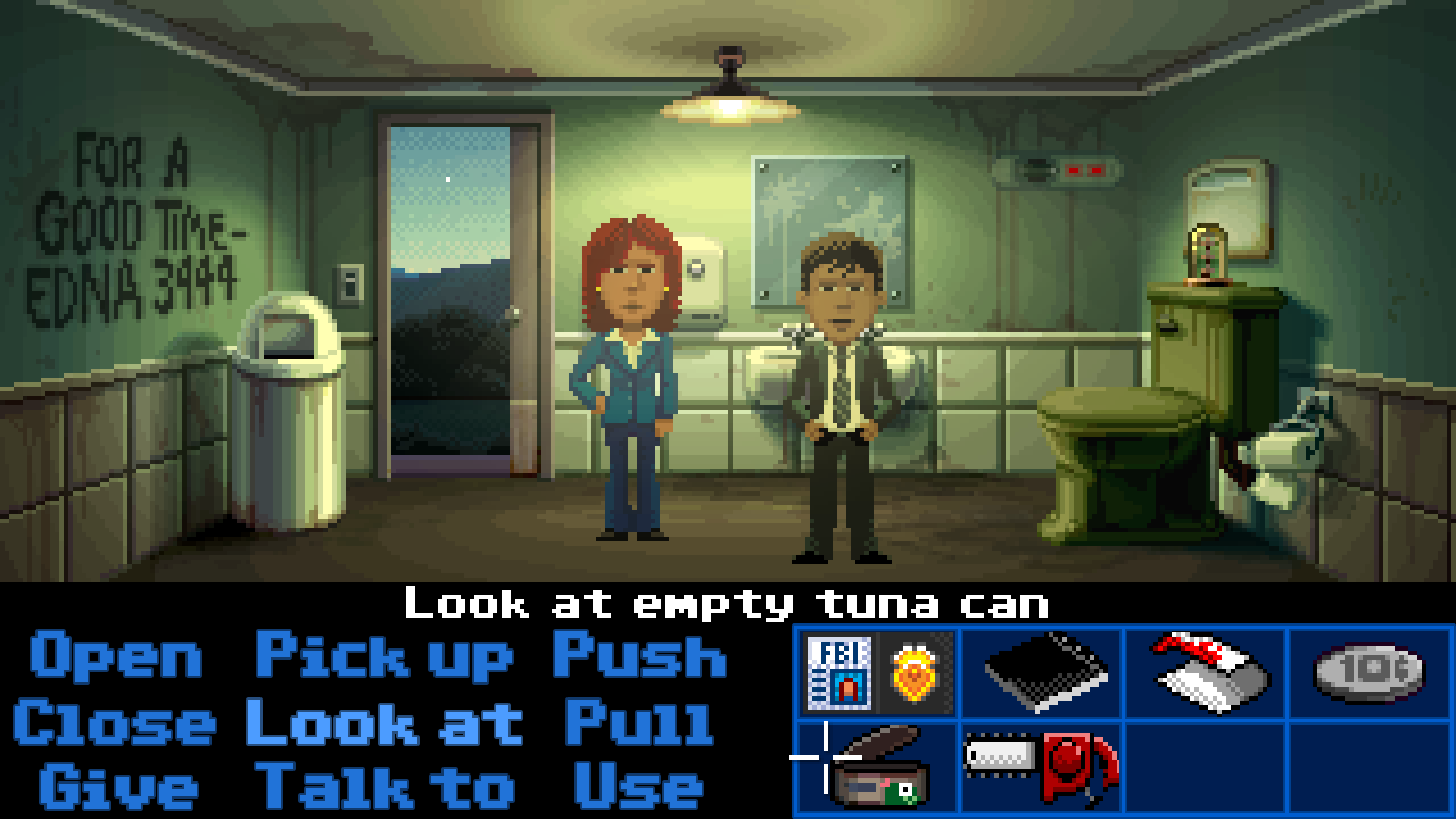 Jogo adventure point-and-click feito por Ron Gilbert e Gary Winnick. O jogo é um sucessor espiritual de jogos antigos da dupla criadora, como Maniac Mansion (1987) e The Secret of Monkey Island (1990), intencionalmente com visual daquela época, tanto no visual quanto na jogabilidade.
Gilbert e Winnick têm como proposta um p&c que remetesse totalmente á época de MM, criando o mundo do jogo e história, montando os puzzles e criando personagens em torno dessa estrutura inicial, em um clima de sátira de Twin Peaks, Arquivo X e True Detective.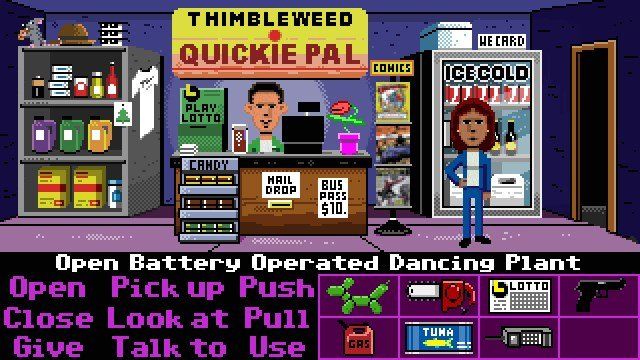 ENREDO
A história começa com um assassinato na cidade de Thimbleweed Park, onde dois detetives estão a cargo das investigações. Fora da cidade, Delores e seus irmãos estão reunidos para a leitura do testamento de um tio rico. Enquanto isso, um palhaço chamado Ransome foi amaldiçoado e não consegue remover sua maquiagem, e no 13º andar do Hotel Edmund, Franklin acorda para descobrir que morreu, mas não sabe como chegou lá.
GAMEPLAY
Similar aos primeiros jogos de adventure, visto por terceira pessoa, com uma vista da área tomando a maior parte da tela, enquanto a parte de baixo é ocupada pelo inventário dos personagens e verbos de ação como "usar", "pegar", e "conversar". O jogo tem cinco personagens diferentes que podem ser controlados durante a partida, como em Maniac Mansion.
Site do Kickstarter: https://www.kickstarter.com/projects/thimbleweedpark/thimbleweed-park-a-new-classic-point-and-click-adv
Última edição por Antonio Neto em Sex 08 Fev 2019, 11:17, editado 5 vez(es)
______________________ Assinatura ______________________
Intel Core i7-7700K Kaby Lake 4.2GHz (4.5GHz Max Turbo) Cache 8MB
GTX 1080 G1 GAMING 8GB GDDR5X 256BIT
Crucial Ballistix Sport 2x8GB DDR4 2666 Mhz
MSI B250 PCI MATE
SSD Kingston A400 240GB + HDD WD Blue WD10EZEX 1TB
WaterCooler CoolerMaster Seidon 120V 120mm
Cooler Master RS-850-SPM2 Silent Pro M2 850W
LIVE: NetoKosovo
PSN: my.playstation.com/netokosovo
STEAM: http://steamcommunity.com/id/netokosovo