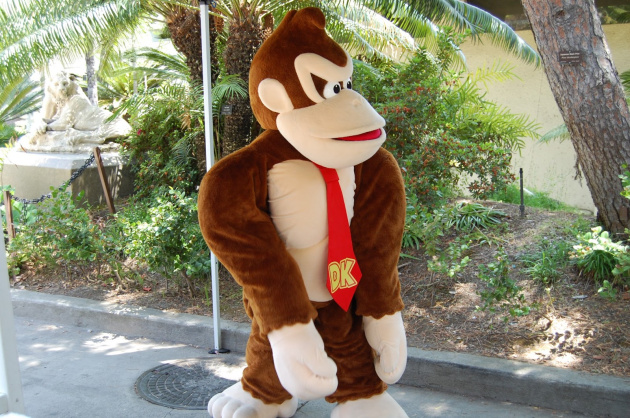 Attorneys for an actor hired by Nintendo to don a Donkey Kong costume for an event at the Los Angeles Zoo said he is suing the gaming giant after suffering a serious heart condition.
lRelated Stockton police: Man keeps taking selfies on stolen iPhone
Parker Mills was hired to play the role of the iconic video game ape May 24, 2013, for the launch of a Nintendo 3DS game, "Donkey Kong Country Returns 3D," his attorney Tyler Barnett said Tuesday.
But the job of playing Donkey Kong proved to be stressful, Mills' attorneys said.
Mills was denied breaks and not provided with the required ice pack to cool him down as he talked to zoo guests in the hot Southern California sun, according to the suit.
"It created a very stressful environment," another attorney for Mills, James Carr, said.
Mills' lawsuit against Nintendo was filed Monday in Los Angeles County Superior Court. It alleged that the company ambassador who was hired to escort him and oversee and control his activities failed to provide the proper oversight.
Mills' attorneys said he suffered an aortic dissection, which is a tearing of aortic walls. He had to undergo surgery to implant a permanent heart defibrillator, they said.
Nintendo media representatives did not immediately return requests for comment.
A news release put out last year on Nintendo's website touted the event as a chance for fans "to take pictures with the costumed Donkey Kong character around the zoo."
"Fans will get a chance to spend time with Donkey Kong and some of his friends from the animal kingdom at the L.A. Zoo," the release continued.
http://www.latimes.com/local/lanow/la-me-ln-donkey-kong-sues-nintendo-20141202-story.html
When actor Parker Mills stepped into a Donkey Kong costume to promote the launch of Donkey Kong Country Returns 3D at the Los Angeles Zoo last year, he most likely assumed the job would be a piece of cake — after all, what's better than being the mighty Kong for a day, right?
However, Mills ended up earning more than just his pay-check for the gig. He suffered an aortic dissection for his troubles — the tearing of aortic walls — which meant he had to undergo major heart surgery and get a permanent defibrillator installed.
Mills is now suing Nintendo, claiming that unsafe working conditions contributed to his illness. He says he was denied proper breaks and wasn't given the ice packs which would have helped him remain cool while working in blistering LA heat. He also says that Nintendo was supposed to provide him with an official escort to assist in his activities, but this never happened.
While the situation might sound comical on paper, Mills has clearly suffered an incredible hardship and received life-changing injuries as a result of taking on this job. It remains to be seen if Nintendo itself will ultimately be held accountable — our friends at Eurogamer have contacted the company, but it has declined to comment.
http://www.nintendolife.com/news/2014/12/actor_is_suing_nintendo_after_suffering_heart_problems_in_a_sweltering_donkey_kong_suit
______________________ Assinatura ______________________
Intel Core i7-7700K Kaby Lake 4.2GHz (4.5GHz Max Turbo) Cache 8MB
GTX 1080 G1 GAMING 8GB GDDR5X 256BIT
Crucial Ballistix Sport 2x8GB DDR4 2666 Mhz
MSI B250 PCI MATE
SSD Kingston A400 240GB + HDD WD Blue WD10EZEX 1TB
WaterCooler CoolerMaster Seidon 120V 120mm
Cooler Master RS-850-SPM2 Silent Pro M2 850W
LIVE: NetoKosovo
PSN: my.playstation.com/netokosovo
STEAM: http://steamcommunity.com/id/netokosovo